Bit of a movie buff or just looking to do something different for your wedding? Well, movie-inspired weddings are a great way of to make your wedding imaginative and creative and will make your wedding film look truly amazing.
Australia is home to an abundance of beautiful landscapes, so it's no surprise that Hollywood loves to shoot films here. If you look a little bit deeper, you'll find that there are plenty of wedding venues offering ideal locations for Hollywood Film inspired weddings.
Here's the top 3 suggestions for a movie-themed wedding from our friend Mae Dendam:
MOONRISE KINGDOM
Sam and Suzy, both shy but mature for their ages, meet briefly as youngsters, become pen-pals and eventually devise a plan for running off together.  They spend a lot of time hiding out together in lovely natural settings only to be pursued endlessly by numerous people, including family members and officials.  Many couples can relate to the long-haul hardship of a romance that everyone around disapproves.
The Perfect Venue:  Just because you live in the city of Sydney, don't be deterred from a Moonrise Kingdom wedding.  For the perfect wedding and banquet location, try The Garden Bar at Harbour Rocks Hotel.
[Image: The Garden Bar Venue]
Movie Inspired Decor:  With its lovely abundance of greenery already in place, you'll need only add a few touches for the ideal setting.  Colorful Zinnias, crocheted table coverings and woodsy bits complete the look.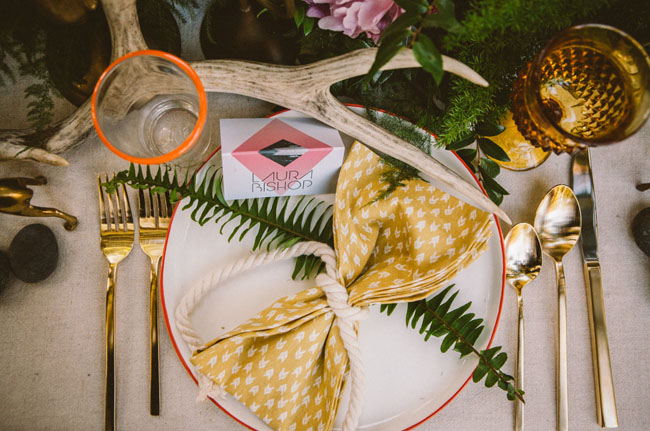 [Image: greenweddingshoes.com]
Wedding Favour Idea:  Brass deer and doe paperweights would look gorgeous on the tables as well as make nice gifts for guests to take home.
THE GREAT GATSBY
Not so much storyline as Roaring 20s era and scenery inspired, all that's needed here is the desire to host an elaborate extravaganza of wedding festivity.
The Perfect Venue:  The Grand Ballroom at InterContinental Adelaide is exactly the posh setting required.  Upscale in every way, it's elegant with enough extravagance to impress any character from The Great Gatsby.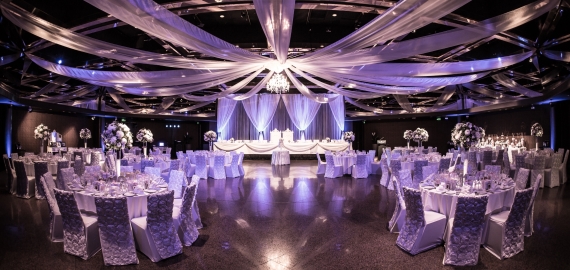 Movie Inspired Decor:  Silk, feathers, fringe and lots of it from wall coverings to tablecloths.  Taffeta bows, orchids and napkins perfectly folded to look like swans fill out the scene.
Wedding Favour Idea:  Remember, the era was all about extravagance.  For the ladies, a 1920's style headband and handbag would be a lot of fun.  Men could be given silk ties and handkerchiefs.
ALICE IN WONDERLAND
Full of wonder, whimsy and a bit peculiar, Alice's fall through the rabbit hole connects her to fascinating characters and ever changing scenery.  Some couples seem to follow the same pattern while on their journey from first date to altar.
The Perfect Venue:  Outdoors under a beautiful tree is the ideal venue for the wedding followed by celebrating at The Cortile for High Tea with friends and family.
[Image: High Tea Cortile. Eilxrrworld]
Movie Inspired Decor:  Use tea rose bouquets and mismatched but coordinated vintage dinnerware.  For a touch of the peculiar, serve a lopsided cake alongside other typical English High Tea delights.
Wedding Favour Idea:  Mini boxes of biscuits and a tin of Earl Grey would be excellent wedding favours.
It's been over 100 years since Hollywood began making films.  Almost all have some form of romance as part of the storyline.  Many are dramatic while others are comedic or offbeat.  Regardless of the particular film or genre that inspires your wedding, we hope you enjoy the big event followed by a long life of happiness together.
—
Bright Day Films would like to thank Mae Demdam for these brilliant tips.
Mae is a writer, blogger, and world traveler with a love for the ocean, animals, good wine and great food. I recently moved to Australia and have been exploring different parts, hoping to expand to see everything it has to offer.
Twitter, https://twitter.com/maedemdam