When my wife and I started planning our wedding, we thought invitations would be a quick and easy 'tick' – how wrong we were! There's a WORLD of choice when it comes to wedding invitations and it can be difficult to know where to start. Recently we talked to the team at Classic Wedding Invitations about how to pick your perfect wedding invitation. They had some great advice, this is what they said:
Choosing the perfect wedding invitation can be difficult and nerve-racking, as it sets the tone and theme for your wedding day. Not only is its job to inform the guests, but it also encourages them to RSVP to your wedding.
You want your invitations to embody the personality of you and your partner, be true to the theme and look enticing to guests. It's important to know exactly what you want in order to design invitations and stationary that embodies your personality and wedding tone without costing a fortune. There are multiple elements to invitations that must be thought about upon choosing or designing them.
In order to help make your decision-making process easier, here are some tips, tricks and information that you may find useful…
Have an open mind
When you first start looking for inspiration, it's important to have an open mind. It can't hurt to look at hundreds of invites before you design one that you love. The more invites you look at, chances are the more you will know exactly what you want. Take your time and observe wedding invites on blogs or at shops.
Start early and take your time
Once you start looking for invitations, you will soon realise that there are millions of designs out there to choose from. This is why it is best to start looking for invitations early and slowly.
It's better to make a well-calculated, thoroughly thought out decision than a last minute and panicked one. This way, the end product will be exactly what you want and you will have no regrets. Take your time to browse in shops and online to see what you like and what you don't like.
Choosing a design
Choosing your design will be hard, but knowing your options is a great way to get started on finding some inspiration or your 'theme' and narrowing it down to what you want. Here are some examples of different types of printing:
Engraved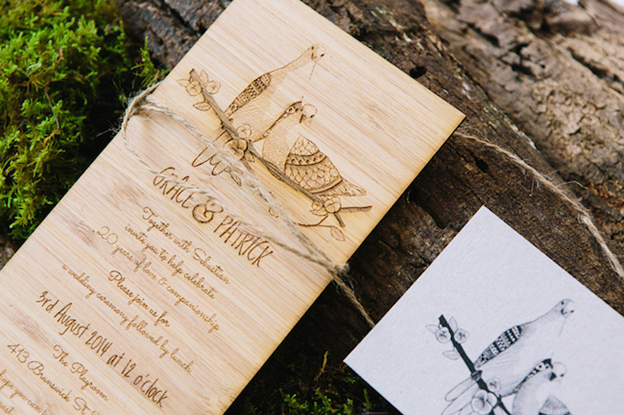 Words are chosen and then 'engraved' onto either a piece of bamboo (like in the above image) or a piece of paper via a metal plate, which is pressed onto the paper under high pressure, creating an indentation. This is the most expensive form of printing. It is also the most traditional, which is perfect if you are planning a traditional wedding. A cheaper alternative is thermography, which produces a similar result.
Embossed
Embossing is the process of raising the paper in the form of text or patterns without the use of foil or ink. This form of printing is also a popular choice, as it produces an interesting 3D design.
Letterpress
Letterpress is the oldest form of printing. It is also a popular choice, as it produces a sharp, professional-looking effect.
Lasercut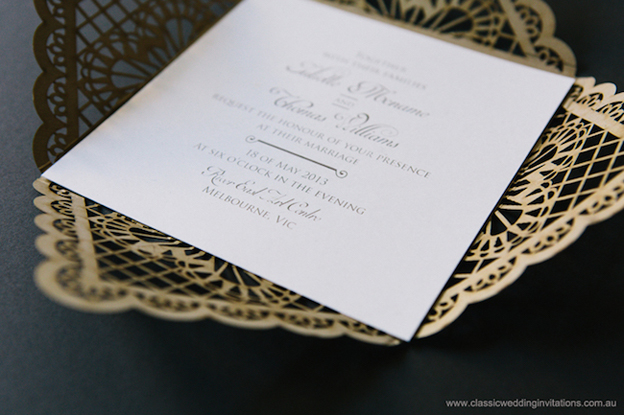 Perhaps the most modern and innovative way of transforming your invitations, lasercut (as shown above) allows for you to be the designer, choose what patterns and texts you would like to be cut to produce delicate, intricate and sophisticated invitations. This way, you get to add your own personal touch while producing unique invitations. Our Classic Wedding Invites could be of inspiration to your invitation designs.
Some final tips…
If you're on a budget then you should consider making certain design sacrifices. Be prepared to go for the cheaper options. Opt for thinner paper or use recycled paper to save money. Remember that less is more and it is better to keep it simple than have tacky, over-the-top invitations. This way, the important elements of the invitations are read, instead of hidden by all the added embellishments.
Finally, don't forget that taste is subjective, and while it is important to create invitations that will entice guests to attend your wedding, it is even more important to choose a design that YOU love. If you want to go for a bolder option then go for it. Chances are, your guests will love it just as much as you do.
Good luck!
Bright Day Films would like to thank Classic Wedding Invitations for these fantastic tips and advice. Take a look at their range of Wedding Invitations.