Guest article by London florist Paul Furness from Petal To The Metal Flowers
Getting married this summer? For those of you planning a wedding for later in the year or early next year, here is an easy to follow guide for choosing your wedding flowers.
Why use a florist?
It seems like an obvious question but more and more people are opting to 'do their own' wedding flowers. I'm not saying it isn't a good idea as something special for the family to do together, BUT, it is a lot more work than you probably think. Ask yourself "Do you want to be taking on such an important task with so many other things that need to be done?"
A florist will provide you with expert advice, they will give you a list of flowers that are in season, on budget and in keeping with your brief. If a specific flower you are desperate to have is unavailable they will be able to offer you an alternative. They will do all the research, design, production and logistics and most importantly they will do the multiple early morning trips to the flower market, sourcing all the flowers in the hectic week leading up to your wedding day. They will make each decoration with love and care and when it is all over, swoop in overnight and clear all the mess away for you. Is that not reason enough to call in the professionals?!
Finding a Florist
Social media is a great way of peeking through the window of a florist, Pinterest, Facebook and Instagram all provide pictorial representation of who they are and what they do.
Visit their website, how up to date is it? Is the photography good? Does the design, look and feel appeal to you? Platforms such as Instagram are great for a much more 'Live' insight, BUT don't be fooled, just because a florist has lots of amazing social media and masses of followers and fans does not necessarily mean they are the one for you.
Choose 2-3 as a shortlist to call and see how that goes, are they friendly, do you connect? So much of the work that goes into wedding flowers comes down to the relationship you have with your florist.
So now you've found a florist what next…
What is my look?
There are so many looks and styles for you to choose for your wedding and flowers play a really big role… but it can be quite overwhelming.
The first thing to do is to sit down with your partner and discuss preferences, likes and dislikes, this is a really great starting point and it's important that it takes both parties into consideration here.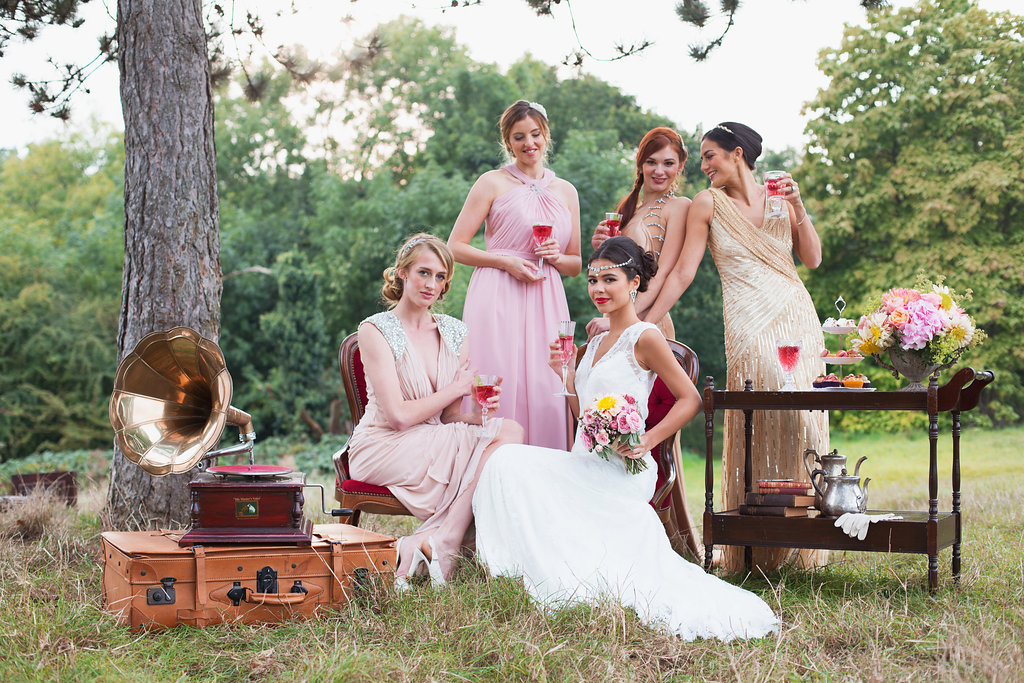 Second, do your research and find out what makes you tick. Buy magazines, use social media and look through the wedding blogs to help build a mood board of the things that you like. It is amazing how quickly you will begin to build a picture of what it is you want once you start doing this.
Here are a list of magazines and Blogs you can look at for inspiration and ideas:
Magazines
Blogs
Now you've done the research and built the mood boards you should go and talk to your florist, run through your ideas, give them your brief and see what they can come up with.
The Venue is key!
The venue will dictate what you do and which way you go design-wise, just make sure that your design ideas compliment the venue you have selected.
Work with what you have and play to the strengths of the space, if its a barn or a local pub then it would be a natural fit to use gorgeous jam jars, milk jugs and small bowls of mixed flowers.
Similarly, if you are having a chic wedding in the city, perhaps a beautiful period venue with gorgeous mantelpieces, sweeping staircase and fabulous dining rooms, then it's great to work with that space perhaps using tall candelabra, crystalware or silver and gold containers.
And so the final piece of the puzzle…..
Budget isn't a dirty word!
Most people hate having the money discussion but it is so important to know what you are comfortable spending from the very start of the process. I definately sympathise with a bride and groom, they haven't necessarily planned a wedding before and just want some expert guidance. If you are completely stuck and genuinely don't know one end of a flower budget from the other, your florist could provide you with a ballpark price range based on your requirements and their experience. Remember this a ballpark figure and if this seems to be in the right region then they can take that further and provide a more detailed and precise proposal.


Sit back and relax!
Once the design and budget are all agreed there is nothing more you need to do other than let it all come together. The weeks leading up to your big day are hectic, sometimes stressful and often emotional. Your florist is in control and no doubt really looking forward to finally being able to bring your designs to life.
I hope this has given a little insight into some of the things you should consider, it is by no means exhaustive and there are lots of guides for you to follow online, this one is personal and from experience, slightly biased towards florists but imparted with love to all you future brides.
If you are getting married over the next few weeks then congratulations, enjoy and have a wonderful day!
For more floristry tips and advice check out the Petal To The Metal Flowers website or Twitter page.