Let's face it, you're hip. You're not into hard church pews, black and white bride and groom figurines on top of cakes and predictable rituals.
Well, good news! These days, weddings need not be boring, predictable and 'same old'! There's a bunch of things you can do to make your wedding ceremony funky, fresh and essentially you.
Rethink your rituals
Sure some rituals are nice, profound, even stunningly beautiful, but when you're just following tradition because… 'well everyone else is doing it!, it's time to rethink your rituals. Have a deep think about what's REALLY important to you and why you and your fiancé are actually getting married. Hold your horses, this might take some introspection? … Exactly! Think about what it is that you love about each other, what things have symbolised your union up until now and what is it that you are dying to express and declare in front of your family and friends?
Combine the old with the new.
You might decide to take the core idea behind the ritual (e.g. The exchanging of rings symbolises a couple's promise of faithfulness to each other for all eternity) but add in your own unique gesture like putting a flower in each other's hair. This way, you combine the traditional ritual but add your own funky flair.
I chatted with Robyn Rodda, Marriage Celebrant from Robyn's Weddings to get her ideas on how couples can modernise their rituals. Here were her suggestions:
The Heart Lock
Different ceremonials and rituals such as "The Heart Lock" are great for the modern wedding. This is where couples use the lock as a symbol of their lifetime love for one another.
Rose Ceremony
The Rose Ceremony is where the rose represents the words 'I love you', the bride and groom each present the other with one during the ceremony. While most of these rituals do come from much earlier days than these, they have adapted to modern times and even shortened to be just a short little ceremony within a ceremony.
Handfasting Ceremony
The Handfasting ceremony comes from Celtic weddings but is now often adapted to suit any contemporary service. The most popular of these ceremonies are Sand, Ring Warming and Unity Candles.
Sand Ceremony:
A wedding sand ceremony is very popular. This is where two vessels of sand are poured together either into a third keepsake vessel, or into the wind to represent the coming together of your lives. It can also be a powerful way to unite two families if either party has children already from a previous relationship. Each member of the family is represented by different colour sand, and as each is poured into the container, the individual portions of sand will no longer exist on their own, but will instead be joined together as one. As every individual grain of sand has its own unique beauty, strength and character, when blended together, they form an entirely new and intricate whole.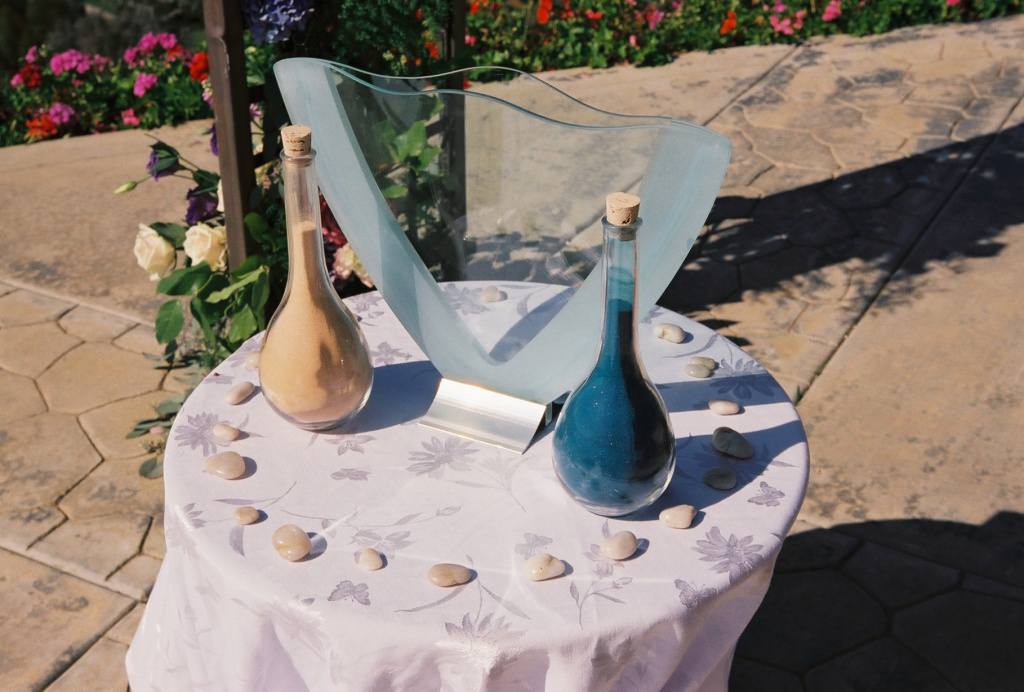 [Image: Wedding couple will pour a bottle of sand together into the vase, symbolising how they are mixing their lives together, Flickr]
Ring Warming Ceremony:
The Ring Warming Ceremony is one that can include all of your guests or just a handful of them. During a ring warming, the couple's wedding rings are passed among their guests, who are asked to say a prayer, blessing, or make a special wish for the couple over the rings while holding them. This intimate exchange injects all of the loving energy of the couple's friends and family into the rings that they'll be wearing for a lifetime. As the ceremony proceeds, we invite family and friends to take part in the warming of the rings. We ask that everyone wish them health and happiness, or may have their own personal wish for the couple. Each guest holds them for a moment, warms them with their hands and makes a silent wish for the couple, and their future together. When they come back the warmth of these precious rings represents all the hopes and dreams from their family and friends.
Unity Candle Ceremony:
The Unity Candle Ceremony, is recommended for inside environments only. The flames from the candles represent the "light" and "souls" of the bride and groom. The two smaller candles on either side of the unity candle symbolise the separate lives, families and experiences before the wedding day and these candles are lit early in the ceremony by a member from each family, usually the mother. After the exchange of vows, but before the exchange of rings the bride and groom take each side candle and light the unity candle together, uniting the families and experiences into one.
So there you have it. All beautiful rituals with powerful symbols – the best thing is they can be adapted to suit your relationship and personalities. By incorporating one of more of these rituals into your wedding, you can have a modern, exciting and funky wedding ceremony that's meaningful to you and true to your expression of love and unity. Now, it's up to you to decide which one's you want to use!
Bright Day Films would like to thank Marriage Celebrant, Robyn Rodda for her contribution to this article. Find more ceremony advice and suggestions by visiting her website.