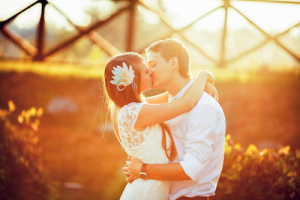 Your wedding day is one of the most special days of your life so it's important to choose the right wedding videographer to suit your needs.
It takes so much time planning and organising a wedding and then when the day finally comes around, it can feel like it's over in a flash. So, most couples hire a photographer to help them preserve their day with photos and many also hire a videographer (or 'cinematographer') to capture their day on film helping to relive the moments.
There are a lot of wedding videographers out there, so how do you choose the right one and what are some things to look for?
Step 1 – Don't ask Uncle Joe
The first step in choosing the right videographer is to not ask Uncle Joe simply because he's family and he's happy to do it for free! Sure, he may have a camcorder, perhaps also a tripod, he might even have done photography in high school, but it doesn't matter. There's A LOT that goes into producing a professional wedding film and you don't want to miss capturing crucial parts of your day or end up with amateur or shaky footage.
A professional wedding videographer will know how to get the best shots, choose the best angles, will use equipment that stabilises the image (preventing shakes), and will do professional editing and colour-grading to your footage. It's worthwhile to pay for a professional, let all your guest enjoy the day and have the peace of mind of knowing you're going to get a great-looking film to share with others and re-watch for years to come.
Step 2 – Do your research
Research and shop around. Don't just pick the first videographer you find on the Internet. It's also a good idea to ask friends who have recently been married about who they chose to film their wedding. Make a list of 5 reputable-looking videography businesses and compare them on their style and cost and what they include in their wedding packages.
Step 3 – Choose your style
Next, ask yourself what style is your wedding? Is your wedding going to be classical and luxurious? Will it be a traditional or a modern wedding? Are you getting married on the beach or in a garden? Are you getting married in a town hall? Will it be funky, lively, retro or vintage?
Like wedding venues, videographers also have a certain style to them. Try to choose a videographer who matches the style and vibe of your wedding. You can get an idea of their vibe by watching a few of their past weddings films.
Interested to know what the Bright Day Films style is?
Step 4 – Decide on a budget
Decide how much you're prepared to pay. Wedding videographers don't come cheap, but you still don't have to pay top dollar to get what you need. Some videographers choose to film the weddings by themselves, others tend to operate in teams of 2 or 3. Rule of thumb is, the less videographers at your wedding, the cheaper it will be.
You can find reasonably prices packages with a single operator for around $3000-$4000. For 2 or 3 videographers you might expect to pay somewhere between $4000 and $10,000. It all comes down to what you want and how important videography is to your wedding day.
Step 5 – Meet them in person
You should feel comfortable with your videographer. Once you have picked someone with a style that suits, ask to meet with them in person. Weddings are intimate affairs, and having the right personality fit is just as important as having someone with the right skills.
When you meet, ask about their style, how much they charge, what kind of equipment they use and how long the editing process takes. Do they come across as friendly and relaxed? Do they sound professional? This is important to consider, because the last thing you want is a videographer who is bossy, hard to deal with or rude to your guests.
Choosing a wedding videographer is an exciting part of the planning process. Ask your friends for advice and get recommendations from those who've been through the process already – that's what friends are there for! These 5 steps are not the entire story but hopefully they will provide you some things to consider when choosing a wedding videographer for your wedding.
Best wishes in your wedding planning and good luck.
Bright Day Film's wedding film showcase is dedicated to helping you decide on the right style for your wedding.